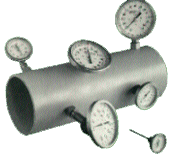 Bimet Thermometers
Model 4000 & 4250 & 4400 Back angle Bimet thermometers
Model 4500 & 4750 Straight form Bimet thermometers
Model 4750-D 3" Duo-temp remote/local reading Bimet thermometers
Model 3900 & 5900 3" & 5" adjustable angle Bimet thermometer
Thermowells for Bimet Thermometers
Moeller bimet thermometers offer excellent performance for industrial process applications as well as general commercial and industrial use. Field proven for accurate and fast response to temperature changes, these rugged instruments feature weather proof and fume-proof cases with easy reading anti-parallax dials. Stainless steel construction gives maximum protection against corrosion.
FEATURES:
Weatherproof, fume-proof case with gasketed removable bezel, all 300 series.

External calibrations - simple zero reset screw adjustment at back of case.

Stainless steel stems with all joints welded. Fixed or union connections.

Anti-parallax scale, white aluminum dial with black easy reading numbers and graduations. Black finished, balanced pointer.

BIMET helix - low mass, single coil is silicone dampened to limit pointer oscillation and accelerate heat transfer for faster response.

Accuracy within 1% of included range.

Clear extra heavy glass front standard. Plastic or shatterproof glass crystals available.
---
Model 4000 & 4250 & 4400
BACK ANGLE BIMET THERMOMETERS

These rugged, fixed back angle thermometers are available in 2 different dial sizes, 5" (4000 series), 3" (4250 series) & 2" (4400 series) to fit all standard installations requiring this form. All standard stem lengths and ranges are available.
---
Model 4500 & 4750
STRAIGHT FORM BIMET THERMOMETERS

As rugged and dependable as all Moeller BIMETS, the fixed bottom connected BIMETS are available in 5" (4500 series) & 3" (4750 series) dial sizes and are offered in all standard stem lengths and ranges.



---
Model 4750-D
3" DUO-TEMP REMOTE/LOCAL READING BIMET THERMOMETERS*

This model combines a shock and vibration resistant Bimet Thermometer and a nickel (or platinum) element remote temperature detector (RTD) installed in a single thermowell. It is ideal for shipboard use or in the process industries, where both local and remote readings of critical operating temperatures are required. The RTD can be easily wired to any standard single or multipoint digital or analog temperature indicator.
---
For Military Styles I.A.Q. MIL-I-17244E click here.
---
Model 3900 & 5900
3" & 5" ADJUSTABLE ANGLE BIMET THERMOMETER

Moeller's newest model offers the same dependability and accuracy as other models at a comparable price, featuring easily adjustable angular frame utilizing sealed bellows construction. All stainless steel, welded construction provides maximum protection against leakage.
---
Thermowells for Bimet Thermometers
Specification
INSTRUCTIONS FOR THE INSTALLATION, CALIBRATION AND USE OF BIMETALLIC THERMOMETERS
---
GENERAL
REMOVE THE THERMOMETER FROM THE PACKING, HANDLING IT BY THE CASE OR UNION CONNECTION. DO NOT HANDLE IT BY THE STEM TUBING.
INSTALLATION
WHEN THERMOMETERS ARE SUPPLIED IN WELLS, REMOVE WELL FROM THERMOM- ETER AND INSTALL WELL. AFTER MAKING CERTAIN THAT THE WELL TEMPERA- TURE DOES NOT EXCEED THE MAXIMUM TEMPERATURES OF THE THERMOMETER SCALE, INSERT THERMOMETER IN WELL AND TIGHTEN IN PLACE, USING WRENCH FLATS ON HEX HEAD OF FIXED OR SWIVEL NUT CONNECTIONS. FOR SWIVEL NUT CONNECTIONS, THE HEAD OF THE THERMOMETER MAY BE TURNED TO FACE DESIRED DIRECTION PRIOR TO TIGHTENING THE NUT.
CALIBRATION ADJUSTMENT
MOELLER BIMETALLIC THERMOMETERS ARE CAREFULLY TESTED AND CALIBRA- TED AT THE FACTORY TO BE ACCURATE WITHIN + 1% OF INCLUDED RANGE AND UNDER NORMAL OPERATING CONDITIONS WILL RETAIN THEIR ACCURACY.* HOWEVER, WHEN YOU CONSIDER IT ADVISABLE TO CHECK THE THERMOMETER FOR ACCURACY, COMPARE IT AGAINST A CALIBRATED STANDARD IN AN AGITATED BATH HELD AT CONSTANT TEMPERATURE.** IF, AFTER IMMERSION IN AN AGITA- TED BATH FOR 8 MINUTES AND AFTER TAPPING THE INSTRUMENT, IT DOES NOT FALL WITHIN ACCURACY LIMITS, ADJUST THE CALIBRATION SCREW LOCATED ON THE BACK OF THE CASE UNTIL THE POINTER INDICATES THE CORRECT TEMPERA- TURE.
CAUTION DO NOT BEND STEM AS THIS MIGHT CAUSE CHANGE IN CALIBRATION. DO NOT EXPOSE STEM TO A TEMPERATURE ABOVE THERMOMETER RANGE.
*WE RECOMMEND ANNUAL ACCURACY VERIFICATION.
**CALIBRATION CHECKS AT THREE TEST POINTS ARE RECOMMENDED AT APPROXIMATELY 15%, 50%, AND 85% OF THE INCLUDED RANGE.
---
Developed by Infotree Web Services
Hosted by Website Department