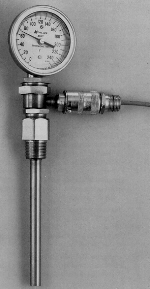 Moeller
Duo-Temp
A 3" Dial Bimet Thermometer for both local & remote readings

Multiple readings from a single sensing unit in only one thermowell






Applications:
Lubrication systems
Gear boxes
Transfer cases
Compressors
Coolers
Heat exchangers
Marine & off-the-road vehicles
The DUO-TEMP instrument consists of a 3" shock and vibration resistant BIMET thermometer and a rare metal remote reading temperature detector (RTD) or thermocouple. Both elements are installed in a single thermowell. The RTD can be wired to a single remote readout or to a selector switch to provide multiple location temperature reading. Although standard units are described here, variations in materials and design can be provided on special order to meet unique specifications. Features:
Weatherproof, fume-proof case with gasketed removable bezel, all 300 series. Gasket is Buna N.
Extermal Calibration - simple zero reset at back of case on all models.
Stainless steel stems with all joints welded.
Anti-parallax scale with frosted aluminum dial and black easy reading numbers and graduations. Black finished, balanced pointer.
BIMET helix - low mass, single coil is silicone dampened to limit pointer oscillation and accelerate heat transfer.
Accuracy within 1% of included range.
Clear, Extra Heavy glass front is standard. Plastic crystals are also available.
Bayonet style removable bezel.
Field replacable RTD or thermometer.
Supplied with 304SS thermowell which is rugged but permits extreme sensitivity to temperature changes. Sensing unit mounts in well with union swivel nut.
RTD connector is adjustable horizontally to 360 degrees.
Weld-in or flanged thermowells are also available on special order. Standard RTD units are equipped with 100 ohm platinum detector. Nickel or copper RTD are also available on special order. Consult factory for details.
Standard Ranges / Scale Divisions
0-200 F / 2 F
0-250 F / 2 F
20-240 F / 2 F
50-300 F / 2 F

Dual Scale Dial
0-250 F / 2 F
-20-120 C

Other Ranges and scale divisions available on special order. Please consult factory.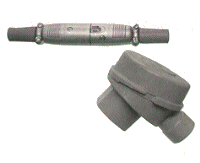 Connector Options
Miniature twist lock connector box with totally enclosed screw terminal connections. (figure 1)
Two section microphone type plug connector with snap lock for secure connection, yet is easily separated.
Thermocouple type junction box for totally enclosed and weatherproof screw terminal junction.



Part Numbering System
To receive further info about this product please fill out our online form.
To order, specify the temperature range plus a single part number using the system outlined below.
D3L23P
D=Indicates Duo-Temp
3=Indicates 3" Dial
L=Indicates Bottom Connection
2=Designates Insertion Length
3=Designates Type of Connector:
1. Twist Lock
2. Microphone Type
3. T/C Type
P=Designates RTD Type
1. P=Platinum
2. N=Nickel
The part number above would indicate a duo-temp system with 3" Dial, Bottom Connected Bimet with a 2" Insertion Thermowell, a T/C Type Connector, and a Platinum RTD.
Special configurations (involving variations of material, etc., not specifically listed in this catalog sheet) should be ordered by inserting a "S" in the part number to indicate the factor to be specially made -- and including a written description of the special characteristic desired.
To receive further info about this product please fill out our online form.
---
Developed by Infotree Web Services
Hosted by Website Department