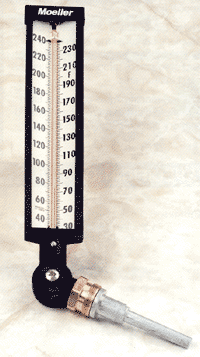 Industrial Adjustable Angle Liquid-In-Glass Thermometer With Plastic Case*
The Moeller name, continuously identified with quality temperature measurement products since 1867, maintains its worldwide reputation with the introduction of a new line of state-of-the-art thermometers. These rugged, depedably accurate liquid-in-glass industrial instruments provide highly cost-effective temperature measurement for virtually any industrial, building construction or marine application. These thermometers are available in a wide assortment of termperature ranges and sizes in either molded plastic or aluminum to meet most commercial requirements. Complete engineering data, specifications and ordering information are below.
This new expanded line of liquid-in-glass industrial thermometers offers a unique combination of quality, utility and economy to provide highly cost-effective temperature measurement for virtually any industrial or commercial process or application.
These top-quality thermometers reflect Moeller's century-long experience in manufacturing the ultimate in reliability and precision in temperature measurement instruments.
The red-reading liquid column is spirit filled and sealed with dry nitrogen under high pressure.
This prevents oxidation and in-service column separation. The capillary is fully protected against mechanical or corrosion damage.
To improve visibility, the spirit tube has a lens front with a V-type scale, using black numbers against a white background. The tube and scale are protected by an easily replaced double-thick window.
The tapered bulb chambers are copper-plated steel and precision ground to provide maximum heat transfer to insure dependable accuracy.
SPECIFICATIONS
Ranges
-40º-750ºF with either Fahrenheit, Centigrade or combination scales in 7" or 9" case sizes.

Case
State-of-the-art V-shape design with component parts molded of GE mineral-reinforced VALOX* with superior impact strength and stiffness for use in applications up to 300ºF. Black textured finish with heavy glass front has spring construction to minimize vibration damage. Optional die-cast aluminum construction models are available.

Stem
Tapered bulb chambers are fabricated from precision-ground aluminum, with tapered cofiguration to provide close fitting metal-to-metal contact with matching taper of thermowell socket, minimizing response time to temperature changes. Space age super-conducting material is used between the bulb chanber and the glass tube to improve response time.

Locking Device
Adjustable case locknut and adjusting screw function independently to provide full 360º positioning of thermometer case and stem to provide optimal visibility.

Adjustable Joing
GE VALOX* is finished to match the case, which is completely enclosed to prevent contamination and the entry of foreign matter into the instrument. This versatile thermometer is easily adjusted for optimum readability, and is available in a wide variety of ranges to match any process measurement application.

Tube and Capillary
Spirit-filled magnifying lens "red reading" tube. Precision made to guarantee accuracy within 1% of scale range. Silicone shock mounted for lasting reliability.

Scale
White coated aluminum with permanently baked, bold black marking. Locked in place and adjusted though device at top of scale. There are no mounting screws to cover up scale markings.
RANGES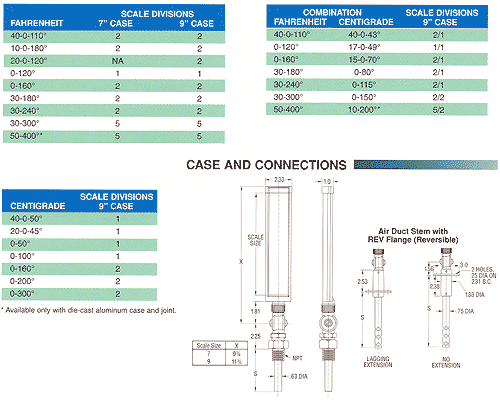 THERMOWELLS
Standard Moeller thermowells are brass. They can also be furnished (specify) in carbon steel, 304 or 316 stainless steel and Monel. The standard NPT is 3/4 inch, 1-inch is optional. Standard and extension neck thermowells are available in other lengths (i.e.: 8x2x3/4 for 8-inch stem).

Thermowell styles, catalog numbers and envelope dimensions (in inches). A special selection from our line of thermowells for use with the new Moeller Adjustable Industrial Thermometers.


---
Developed by Infotree Web Services
Hosted by Website Department