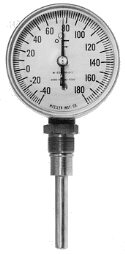 Moeller Shock and Vibration Resistant Bimet Dial Thermometers
For military, marine, process and other industrial environments where high level shock and vibration are encountered.

Features: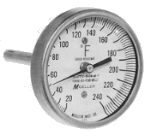 Accuracy within 1% (full scale)
Weatherproof, fume-proof, all 300 series stainless construction
Accurate, easy reading, 3" anti-parallax dials with clear, extra heavy acrylic fronts
External calibration by set screw at back of case
Low mass, single coil helix, silicone dampened for instant response
Back or bottom connection
Thermometers will fit wells existing for 5" submarine type mercury-in-glass thermometers of equivalent stem lengths
Variety of thermowells available

Qualified to MIL-I-17244-E. Meets shock requirements of MIL-S-901C and vibration requirements of MIL-STD 167 as well as requirements of most demanding commercial applications (also available in right or left hand configurations.)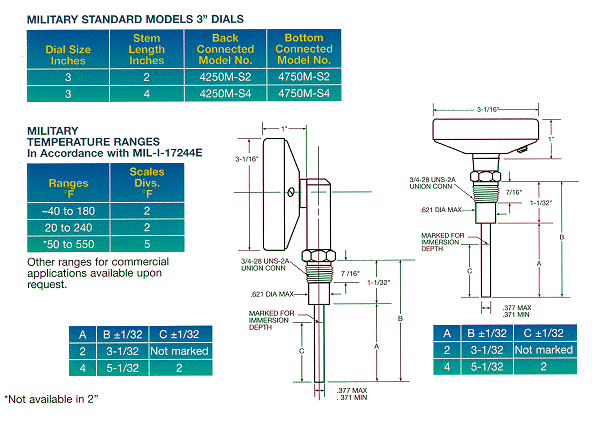 DUAL ELEMENT BIMETALLIC THERMOMETER
Designed as an alternate to standard MIL-I-17244E & vibration resistant thermometers. Can replace standard existing units without installing new thermowells.
SPECIFICATION SHEET
PRIMARY ELEMENT:
Primary element to be bimetallic thermometer built in accordance with MIL-I-17244E AMD. 5, Indicators, Temperature, Direct reading, Bimetallic. The units are available in bottom & back connection, 3" dial size only. ( SAMPLE SPECIFICATION CLASS # ITD 324O2-S) This unit is a 3" dial, bottom connected, 2" stem (insertion), range 20/240 F. The -S denotes the following exceptions to the military specification described under secondary element below.
SECONDARY ELEMENT:
Second Element three wire, 100 Ohm Platinum RTD, Alpha= 0.00385, 0.1 Ohm accuracy at 0 Deg C, 1/8 inch diameter.
UNIT FEATURES:
Includes an integral electrical connection ( MS3451W10-3P OR MS3452W10-3P) to mate with cable connector MS3456W10-3S. The cable connector is supplied as part of the unit. The stem diameter will not exceed 0.379 RTD & Bimetallic inclusive. The Bimetallic stem & RTD will extend the same length as required to fit existing thermowell with 0.380 bore & 3/4-28 UNS-2 female thread length to be specified by customer in Specification Class # .
---
Standard Thermowells for Moeller Shock-Proof Military and Commercial BIMET Thermometers
Moeller Thermowells are rifle drilled from solid bar stock and are available in a wide variety of special materials and alloys as wells as all standard commercial metals. The standard wells shown here are especially engineered and meticulously manufactured for use with Moeller BIMET thermometers in environments subject to high level shock and vibrations. View Specs for our Standard Military Thermowells

How To Order:
Please Specify: Required Thermowell Model Number and Material
---
Developed by Infotree Web Services
Hosted by Website Department